Voting for Oasis Awards Has Started
The polls are officially open at the Oasis Contemporary Jazz Awards. Fans of the format can cast their vote for everything from Best Brass Player to Album of the Year and more.  Among the categories to be determined are Entertainer of the Year [Dave Koz, Kirk Whalum, Chris Botti, Brian Culbertson and Richard Elliot].  Competing for Album of the Year are Chris Standring's "Blue Bolero," Kenny G's "Heart and Soul," Dave Koz' "Hello Tomorrow," Sade's "Soldier of Love" and Brian Culbertson's "XII."  The ceremony will also recognize the Artist of the Decade; on the ballot for that honor are Pat Metheny, Chris Botti, Dave Koz, Boney James and Peter White.  The awards will be handed out on March 12 in San Diego.  For more info and to cast your vote, head to the website.
---
Chuck Loeb's New Year's Plans
Chuck Loeb had a busy year as the new guitarist for Fourplay...and he anticipates more of that crazy pace for 2011.  But he has some other plans in the pipeline, as he shares on his website.  Loeb reveals that he's gearing up to go into the studio for a new solo album: "My idea at the moment is to do an organ-based project inspired by the great organ-guitar collaborations back in the day -- Wes Montgomery and Jimmy Smith, George Benson with Jack McDuff, etc....This is something I have longed to do for many years and the time seems right as Harvey Mason and I have begun to discuss doing a tour with a similar concept next summer when Fourplay will be off."  But that doesn't mean the supergroup of which Loeb is now a member is taking much downtime: 2011 marks the band's 20th anniversary, so they plan to be on the road throughout the year. 
---
More Album Tweets from Boney James
Boney James is keeping fans in the loop about the progress on his upcoming album.  In a series of recent tweets, he shared, "Mixing....it's so great to hear the music all coming together. Can't wait til you can hear it!"  When prompted by one of his fans as to when that might be, James revealed that the record should be out "late March or April."  He's currently on his way to St. Thomas to join the Smooth Jazz Cruise.
---
Stevie Wonder Reunites with "Friends"
Stevie Wonder is set to reunite with his superstar pals Elton John, Gladys Knight and Dionne Warwick in a live performance of their Grammy-winning song, "That's What Friends Are For."  The occasion is the 25th anniversary of AmFAR, the American Foundation for AIDS Research, which will be marked by a black-tie gala in New York on Feb. 9.  Wonder and friends will perform the foundation's unofficial theme song during the event; to date, sales of the 1986 Billboard-chart-topping track have raised over $3 million for the cause. 
---
Al Jarreau Kicks Off 2011 With Tour, New CD
Al Jarreau hasn't let his health problems from last summer slow him down:  the 70-year old singer is back out on the road this winter, in anticipation of his upcoming new album.  Talking to Billboard.com, Jarreau says the health scare that sidelined him last year was taken all out of proportion: "I had a shortness of breath incident...and found out I had some cells that were misfiring...and making my heart race.  There was an easy fix for it..and there are a few lifestyle changes in place now.  We're beyond that now and I'm doing great."  Jarreau's new single, "Double Face," should be out shortly -- with the album [still untitled] to follow later this year.  In the meantime, he's got several dates lined up this month. 

---
Anita Baker Makes Mary J Blige Cry
Anita Baker brought fellow songstress Mary J Blige to tears when she surprised her at Blige's 40th birthday party.  The New York Post reports that Blige's husband threw her a star-studded, desert-themed bash in New York last week. Guests included Beyonce and husband Jay-Z.  Everything was cool until Baker (a surprise guest) began singing "Caught Up in The Rapture," bringing the birthday girl to tears.  A source commented, "Mary J said growing up in the projects she was lost, and owes her life to being inspired by [that song] and Baker.  Anita got up to toast her and started to sing the song. Mary J began crying and joined in."
---
Herbie Hancock to Be Honored
Herbie Hancock has a special weekend ahead of him: he's set to be honored by BET on Saturday, Jan. 15th as part of their annual BET Honors Ceremony.  The Grammy-winning artist will be celebrated by musicians including Chick Corea, and the award itself will be presented by producer Jimmy Jam.  BET Honors recognizes lifetime contributions in culture, music, media and more. Other receipients this year include Cicely Tyson, Iman and Jamie Foxx.  The special takes place at the Warner Theater in L.A. and will be taped for broadcast during Black History Month next month.  Hancock's current album, The Imagine Project, is also up for three Grammys next month.
---
Esperanza Spalding to Appear on Late Show with David Letterman
Bassist and singer to perform song from her Chamber Music Society album on Letterman's show on Friday night
Esperanza Spalding, who was nominated for a Grammy this year as Best New Artist, will be performing a song on The Late Show with David Letterman tonight on CBS. The bassist/singer will be performing "Winter Sun" from her most recent album Chamber Music Society on Heads Up.
Tune in
---
Exhibit of Jazz Photography by Frank Stewart Opens
Traveling Full Circle: Frank Stewart's Visual Music, a show of jazz-inspired photography to open at Jazz at Lincoln Center on January 22, 2011
The exhibit is free and open to the public, Tuesday through Sunday from 10am to 4pm and 6pm to 11pm and Monday from 6pm to 11pm. For more information, you can also go to Jazz at Lincoln Center's website.
---
NEA Jazz Masters Honored in NYC
Class of 2011 includes Hubert Laws, David Liebman, Johnny Mandel, the Marsalis family and Orrin Keepnews
At the annual NEA Jazz Masters awards ceremony held on Tuesday evening at Rose Hall at Jazz at Lincoln Center, the themes of community and family kept surfacing and not just because, for the first time in its history, the organization included a family—the Marsalis family—in its slate of honorees. Besides the Marsalis family—father Ellis, along with sons Wynton, Branford, Delfeayo and Jason—this year's NEA Jazz Masters were Hubert Laws, David Liebman, Johnny Mandel and Orrin Keepnews. Ranging in age from 64 (Liebman) to 87 (Keepnews), this year's class of Jazz Masters came from very different backgrounds but all shared a lifelong love and commitment to the music.
At a panel held early on Monday afternoon, the day before the ceremony, writer and arts advocate A.B. Spellman moderated a discussion with the new class of Jazz Masters (with Ellis representing the Marsalis family). Although Spellman kept asking about the effect of jazz moving away from the private sector of nightclubs to the highly subsidized world of performing arts, the panelists instead preferred to talk about the sense of community in jazz, in the past, present and future. Marsalis voiced concern that the feeling of community with jazz musicians is getting harder in modern times, though Mandel said that jazz musicians will always be like a family. Laws said that for him, "People are more important than things, and family members give us more than anything we can get." He added, "I miss the old days, when we were like family."
Read the complete at JazzTimes.com.
---
Brian Lynch On Piano Jazz
Trumpeter, composer and bandleader Brian Lynch brings a masterful, wide-ranging sound to this episode of Piano Jazz with guest host Jon Weber. Lynch was born on Sept. 12, 1956, in Milwaukee, Wisc., where he studied at the Wisconsin Conservatory of Music with Buddy Montgomery and Melvin Rhyne. After a short stint on the West Coast, Lynch came to New York in 1981; he spent the next decade working under some of the heaviest names in jazz, including the Horace Silver Quintet, Art Blakey and the Jazz Messengers, Phil Woods and Benny Golson. In the late '90s, Lynch began playing in — and eventually arranging, composing and directing — Afro-Caribbean ensembles. This work culminated in Simpatico (The Brian Lynch/Eddie Palmieri Project), which won a Grammy for Best Latin Jazz Album in 2007.
Lynch continues to perform, tour and record, and has recently added teaching university and master classes to his resume. In this session, Lynch sizzles with accompaniment by Jon Weber on a set of mostly original tunes, with a bit of Cole Porter and a tribute to Marian McPartland.
Lynch kicks the session off with a few original tunes devoted to trumpet innovators past: "Woody Shaw," "Tribute to Blue (Mitchell)" and "One for Mogie," which recalls the hard bop sound of the great Lee Morgan.
The Latin side of jazz, specifically the Afro-Caribbean, has occupied a sizable slice of Lynch's performing and recording career for the past 15 years. "Que Seria La Vida?" ("What Would Life Be?") is a slow-burning bolero written by Lynch with words by Lila Downs. Weber keeps time as Lynch's trumpet smolders in this soulful tune.
Lynch and Weber pay tribute to the creator of Piano Jazz, Marian McPartland, with their faithful rendition of "Portrait of Dizzy," a tune she improvised on the spot during a 1985 episode with guest Dizzy Gillespie. Weber holds down the changes as Lynch plays a beautiful lead with bell-like clarity. McPartland's original take was just more than two minutes in length, and Lynch and Weber enjoy stretching out over the tune for five and a half minutes.
"Wow, she improvised that?" Lynch exclaims. "Great harmonic sense."
"How hip is Marian?" Weber adds.
The session ends with Cole Porter's "So in Love" played at breakneck speed. Weber sets a quick tempo for Lynch's opening solo, then pushes the accelerator to the floor for a few bars of blazing keyboard work. Lynch follows with a swift line of his own, showing his own considerable chops. It's a playful game of catch between two veteran players to close this installment of Piano Jazz
---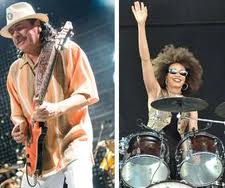 Big fun news: Santana weds Blackman, Herbie & Wayne play
great recording year, issuing Another Lifetime, her smashing tribute to the late Tony Williams) and driving Organ Monk, Greg Lewis's trio album that made my top 10.
Santana's best albums after the first one always have had a outward reach --
Abraxis
,
Caravanserai
, his spiritualized rave up
Love, Devotion and Surrender
with John McLaughlin and organist Larry (Khalid Yasin) Young, and 1990's 
Swing of Delight
, featuring ex-Miles men Herbie Hancock and Wayne Shorter (who made music at the wedding), Ron Carter and, yes, Tony Williams. Carlos and Cindy -- play hard and prosper!
---
Denys Baptiste - Sense of Belonging
There is a very spiritual and natural quality to the saxophone playing of Denys Baptiste. His latest album, the first in a long while, marks the return of a player who has the ability to inspire others to find a new path, and yet draw in freshly created meanings to the panoply of his musical persona. With the release of Identity By Subtraction this month these processes are set to expand dramatically. Stuart Nicholson talks to Baptiste, about what matters to him most, and in what amounts to a wake-up call about what it really means to be a jazz musician, hears some home truths from Baptiste that young musicians everywhere would do well to heed.  
From his 1999 debut album Be Where You Are it was immediately apparent that Denys Baptiste was a man to watch. With a Mercury nomination and a MOBO award under his belt, his career moved into the fast lane. Courtney Pine's glowing encomium that he was "one of the strongest tenor saxophonists this country has ever produced," did not seem wide of the mark when he picked up a Rising Star award in 2000 and by the time he came to release his second album Alternating Currents the following year, he was confronting a dilemma unfamiliar to most British jazz musicians – how to follow on from his early success. The answer was simple, become bigger and better, and with extra horns and vocals the critical acclaim again rolled in.
His third album, 2003's Let Freedom Ring was nominated for best album and best new work in the BBC Jazz Awards, Best Jazz Act in the MOBO Awards, and Best Album in the Parliamentary Jazz Awards. But after extensive touring over the next year, the next big step in his career never quite materialised. The reason was simple. A dedicated family man, he had other priorities. "The last few years I have been spending a lot of time bringing up a family, and music has taken a little bit of a back seat while I've been doing this," he says. "It's something that I wanted to do, and spend a lot of time doing."
to read the full article click here
---